Product Description
Cute Wireless Headphone Mini Wireless Headphone Cheap Wireless Headphone
MP3 headphone with integrated FM radio 
1. Play mp3 tracks by inserting TF card
2. Bulit-in FM radio(76~108MHZ)
3. LCD display
4. bulit-in rechargeable Li-ion battery
5. Used as mobile HD and card reader as well
6. Five music mode for selection
7. music format: support MP3, WAV, WMA
8. accessories: usb charge cable.
 Product  Pictures
More Product Pictures                                                                                              
MP3  Headphones With FM N-65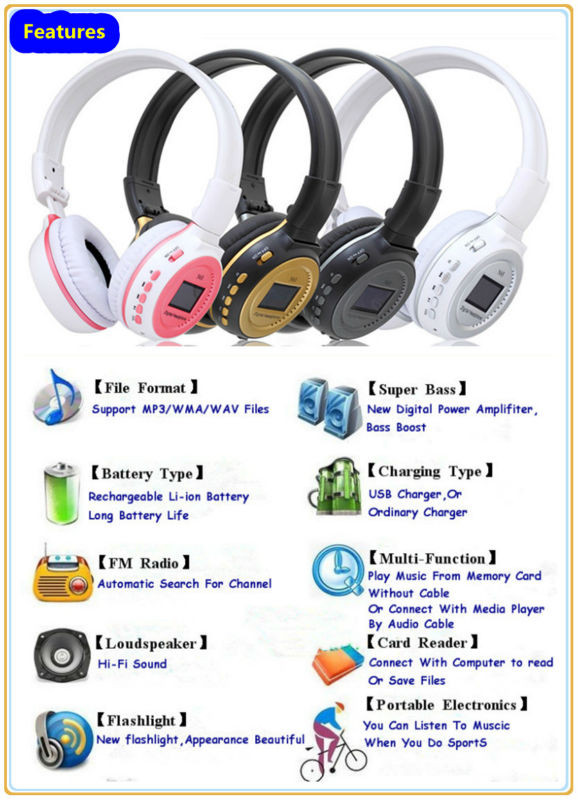 * Connect with computer reads, written to the file to MMC/SD/TF (need to match card  sets) cards, applicable card reader function.
* 3.5mm audio input general port, and can be used for other audio equipment headset use.
* Flash light around ear cap when you turn on the headphone, it look colourful.
* LCD With Track Information
* Foldable Headphone
* Rechargeable battery, convenient and practical
* Play MMC/SD card stored in mp3/WMA /WAVfiles
* High quality speaker and sound cavity design, ensure high fidelity. CD quality effect. 
* FM function
Our Facvtory: